[ad_1]

hello readers..here is the 11 th Episode. Thank you for your constant support and keep supporting 😊💖.
At morning kartik and naira are seen sleeping together by naira laying on kartik and Kartik hugging her..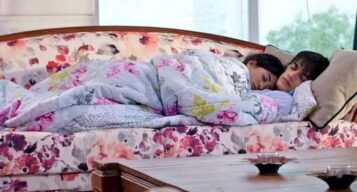 .
They both wake up and gets shocked seeing each other's position..
They move away immediately and stares each other..
Kartik:ohh..goshhh.. how did i sleep here? And also..by..
Naira: hugging each other..so strange.
Kartik:yes.. yesterday we fought and lie down tiredly for sometime but i never realised that i slept like that atself..
Naira:even me too..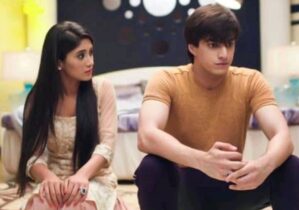 Kartik:it's okay.. anyways iam sorry..
Naira:iam sorry for..
They both stare again as they tell same at same moment and they laugh..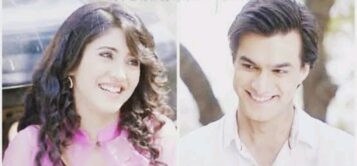 Kartik:i don't know why you always coincide me..
Naira:no..it's you who always coincide me..
Kartik:you never accept the truth..
Naira: don't blame me.. you only never knew the truth.
Suddenly kartik gets call and he attends while his family speaks keeping it in loudspeaker..
Manish:did you both reach safely there?
Kartik:yes dad..i and naira reached here safely.
Dadi:how is your day?
Kartik:what to say dadi..naira is breaking my house by fighting since we entered.
Everyone gets shocked while naira shouts near the phone..
Naira:lie.. please don't believe him. It was him who is fighting since we came here..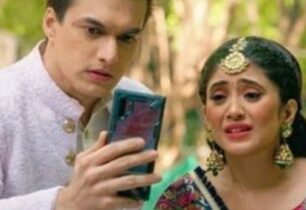 Kartik:shut up.. don't lie again. It was only you who was fighting..
Naira:no you..
Kartik:no you..
The goenka's hold their head hearing their fight in phone..
Veer: someone should take marriage lessons for them..
Abir:right..they are behaving and fighting like child even now.
Mansi: they friendship is shown in this way only..they do more silly fights but never leaves caring each other.
Dadi:what's the use now? They are married..they should understand it.
Swarna:maaji..they married just as friends and that's why they are still same. And they should fall in love with each other first to make their relation ahead and it needs time also..let them be like this and one day they will accept each other.
Dadi:i hope so..
Manish:kartik beta..we are live on call.. atleast stop fighting now.

Kartik gets embarassed and stops fighting..
Kartik:sorry dad..woh..
Manish:i understand but you should become sensible. Anyways today you are going to go back to your job and did you finished naira's dance academy works?
Kartik:yeah..when i was in udaipur atself i called Piyush here and arranged everything. I brought a building for good price and made it for dance academy..now naira can go there from today.
Naira gets stuuned hearing him and looks him…
Manish:that's good..congratulate her on our behalf also.
Dadi:yes Kittu..and also please take care of her as it is mumbai. Leave her and pick her up from dance academy on time..
Kartik:acha acha..
They end the call finally..
Naira:kartik..why are you too good?
Kartik gets suprised..
Kartik:what happened to you? Before sometime you was fighting and now you are praising me..
Naira:leave that.. fighting is necessary in every relations to keep it more interesting. Anyways tell me why did you do this much for me?It was my dream to teach dance to others by opening dance academy and i would have done it myself…
Kartik:i did a husband and friend's duty naira. Since childhood we fulfill each other's wish and desires and I did same thing too..
Naira gets emotional and hugs him..

Naira:thank you so much kartik..you are the best and also the best part of my life.
Kartik: even you too naira..ok now don't get too sentiment. Now get ready..i will show your dance academy and leave you there.
Naira:ok..
They both gets ready and kartik takes naira to her academy and naira gets emotional and happy seeing the academy and jumps in joy..
Naira:awww..this is my dream..wow..thank you so so so so much kartik..you made my dream came true.
Kartik smiles seeing her cuteness..

Kartik:naira..more than me you have to thank god as he is the one who fulfills every human's wish.
Naira:yes.. you are right. I will go and thank god free going home.
Then kartik shows a guy to naira..
Kartik:naira..he is Ivan. Ivan will be the manager who will take care of the academy in your presence and absence and he will deal with all legal procedures and competition procedures announced by the government. So you just can focus on teaching the students..
Naira gets so happy as kartik made the work more easier..
Naira:kartik..
Kartik: don't thank me and praise me again orelse i will get angry.
Naira giggles..
Naira:acha..acha..but i will do something special for dinner as a thank you gift because you only hate telling thanks right?
Kartik smiles..
Kartik:you.. anyways i know will thank me is some other way even if i stop you. So your wish.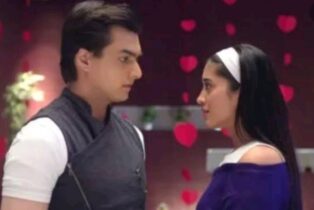 Naira:ok..iam going in and you go college.
Kartik:acha..i will come and pick you up at 2 pm.
Naira:ok..
They wave bye while naira goes in and kartik goes out..
GOENKA HOUSE:
Veer drinks water from fridge and was going to his room while the families stops him..
Dadi:veer..i don't want to talk indirectly so i will tell it straight forward.. next we have to look alliance for you only. So tell us if you love anyone..
Veer gets shocked..
Veer:what? Why so soon?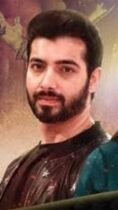 Sumitra:what why so soon..will you get married at old age huh?
Veer:no..but still Abir and Mansi is there..then why me first?
Andy:are you nuts? Abir is two months younger than you and Mansi is still younger.. then who will get married first?
Veer:but papa..
Andy: no buts..just tell me do you love anyone?
Veer:no..
Sumitra:then tell me atleast what type of girl you like.. so that we will find according to your choice.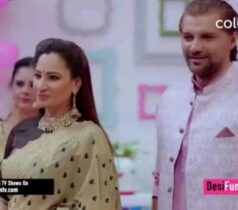 Veer thinks about bani and blabbers..
Veer: a girl who is beautiful and sweet and who talks more..
Dadi: thank god.. finally veer became matured as he finally opened up.
Veer comes out of his thoughts and gets confused..
Veer in mind:when they asked what type of girl i want..why did i tell about bani's qualities? Why is she running in my mind nowadays?
Sumitra:so we will find your radha soon..but don't worry..we will keep your marriage only after 3 months so that you will get prepared for new life.
Veer:do whatever you want..i don't care.
Veer goes to his room and lies on the bed and closes his eyes and bani comes in front of him..
Bani:veer..i love you..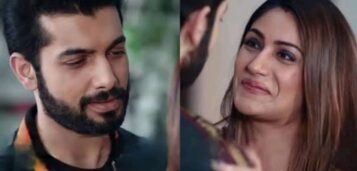 Suddenly veer opens eyes and gets shocked..
Veer: arrey.. what is happening with me? Why am i always flooded with bani's thoughts and now i saw as if bani is proposing me.. what's happening with me? What a strange feelings…I'll better sleep to get rid of this strange dreams.
Veer lies and sleeps and he starts dreaming..
Veer takes blindfolded bani to a dark place..
Bani:veer..where are you taking me?
Veer:patience..dear patience..
Suddenly he opens the knot and bani gets suprised seeing a dining table in a forest surrounded with beautiful decorations and candles…
Bani:wow..it's..it's so awesome..thank you so much veer.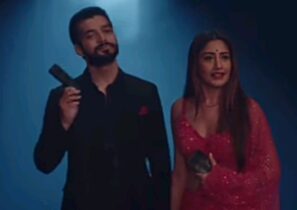 Veer: anything for my love..
Bani smiles while veer forwards his hands and bani holds it and they both sit in dining and enjoy feeding each other..
Bani:you know one thing..the food is tastier.
Veer makes a face..
Veer:i thought you will compliment my efforst but you are complimenting the food which is made by someone..stupid.
Bani laughs and pinches his cheeks cutely..
Bani:ohh my love..you are acting cute by misunderstanding. Actually the food is tastier as you fed me..
Veer smiles..
Veer:that's my girl..ok..come lets capture this beautiful moment with dance..
Veer forwards his hands again and bani holds it and they both dance romantically..
Yah kya hua
Yah kyun hua
Jo vhi hua, accha hua.
Humne Rait Pe yunhi pheri thi ungliyaan
Kya karun ittefaq se tera naam baan gaya,
Humne Rait Pe yunhi pheri thi ungliyaan
Kya karun ittefaq se tera naam baan gaya.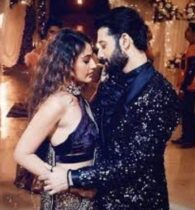 Tu mera pahla-pahla pyar baan gaya
Humne Rait Pe yunhi pheri thi ungliyaan
Kya karun ittefaq se tera naam ban gaya.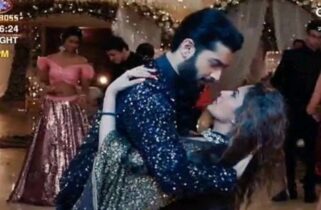 Suddenly someone pours water and veer gets up from sleep and sees Abir..
Veer:are you nuts? Why did you pour water on me? I don't know whether god created you or satan..
Abir:why? Did i disturbed your romantic dream?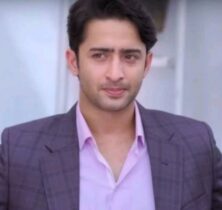 Veer gets stunned..
Veer:w..wha..what? Wh..why wi..will i dream like that?
Abir:its a usual thing which happens to everyone if the marriage talks starts for them..
Veer:but i dont know who is my bride then how will i get those dreams idiot?
Abir:hey.. stop your acting. If you really don't know then you won't get..but If you love someone or know your bride..then iam sure you would have got it.
Veer gets shocked..
Veer in mind:i..i dreamt bani..that means am i in love with bani? No..i hate to fall in love then how can i love someone?what's this…i don't understand anything.
Abir:you keep thinking..your mum asked you to come and have breakfast and go to office and that's why i came and waked you up. So keep thinking at night..now come down.
Abir goes while veer thinks..
Veer in mind: i don't understand anything..leave it. I should ignore this thoughts..god will show me some way what's happening with me so I'll better concentrate on office works first.
Veer too goes down..
HOSPITAL:
Niya sits near rehaan who is admitted in hospital and smiles evilly..
Niya :iam sorry rehaan for causing you accident. I was helpless to do as you asked me to reveal the truth to media..but iam an actress so i don't want to lose my image by revealing the truth and that's why i made you accident and sent you to coma to keep you in control..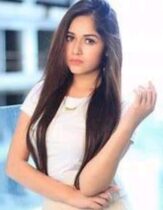 A nurse comes in and niya greets her..
Niya:thank you for doing this..as i asked you to give some wrong medicine and you gave it and made him into coma.
Nurse:i never did this wrong work but i did as you paid money for my mother's treatment. But i will pray for this guy's recovery as i dont wish any human to suffer..
Niya: even i will pray for his recovery but after my work gets over..
Niya in mind:after i marry kartik..i will pray for rehaan's recovery.
Nurse:i don't care whatever you do but if your intention is wrong then god is there to make it right..so be careful.
Nurse goes while niya smirks..

Niya: everything is fair in love and war. But i pray that kartik shouldn't get angry on me..i will tell him a lie when he asks about me and rehaan.
COLLEGE:
Rohit and his friends are seen sitting together..
Rohit's friend madhav: hey rohit..what's your first plan to impress Mishti?
Rohit: becoming a hero like in movies. Only you guys are going to help me..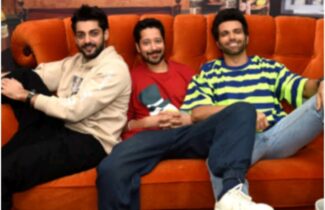 Another friend Ashok:but how?
Rohit discusses the plan which is muted..
Madhav:it's such a nice plan.. don't worry..we will execute it perfectly.
Ashok:yes..once the college overs we will do it.
Rohit:thank you guys..
Rohit sees Mishti going with her friends to canteen and smiles..
Rohit in mind:you are my lottery Mishti…
After college gets over Mishti was walking on the road while Abir was coming towards that area in bike speaking to someone in phone…


Abir:hey mad..just wait in that coffee shop for five minutes..iam coming.
Caller:fine.. come soon.
Abir rides the bike while a car comes speeding towards Mishti and rohit smiles watching it aside…
Rohit in mind: now i will save Mishti and become hero for her..
Mishti gets scared seeing the car coming towards her and shouts..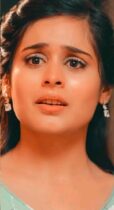 Mishti:aaaaaaaaaaaaahhhhhhhhhh..
Rohit runs towards her while Abir passes by and he stops seeing it and he too rushes towards Mishti..
Abir and rohit shouts from either sides: Mishti…
Before rohit holds Abir holds Mishti and pulls her towards him and hugs her tightly while the car passesby..
Rohit gets shocked seeing it..
Rohit in mind: shit.. this guy spoiled my plan. I thought i can become hero for Mishti so that she will start liking me but this guy.. this guy flopped my plan.
Mishti cries and hugs Abir more tightly..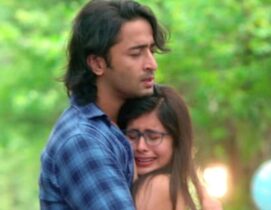 Mishti:thank you so much Abir..if..if you haven't came..i would have.. di..
Abir closes Mishti's mouth…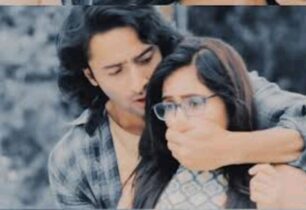 Abir:Mishti..just thank your lord that you are saved instead of thinking of worse happening.
Mishti looks him..
Abir:why are you silent? Did i say anything wrong..
Mishti points his hands and abir realises that he is closing Mishti's mouth and he takes away immediately..
Abir:woh..iam sorry..
Mishti:it's okay..even iam sorry for thinking negative. And thank you for making me understand and also for saving me..
Abir jokes:arrey..you always say the word thank you more than 1000 times if i do anything..iam really getting heart attack hearing it. Please don't thank me and kill this handsome guy na.. please.
Mishti: ohh fo..you are praising yourself in the name of advaising me not to thank..and kindly don't think yourself as handsome huh? Because you are always funny monkey..
Mishti laughs while Abir frowns..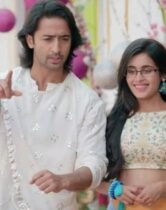 Abir:tell directly that you can't accept the truth that iam handsome as you are jealous that you are not beautiful..miss.useless universe.
Mishti:what?
Mishti beats him while Abir shouts and rohit gets angry seeing their cute nok jhok..
Rohit in mind: mmishti..you know me since 1st year but you haven't been this much close like that guy..but you are playing with that stranger as if he is your boyfriend..i know you have no boyfriend as i heared your talk with kuhu. Why are you getting close to that stranger? I wont let my efforts vein..i will try try till i succeed…

Rohit goes away angrily while Abir pushes her away finally..
Abir: ahhh..you have broken my skeleton i think. I don't know whether you are human or not as you don't have humanity at all..
Mishti:shut up..talk anything if you want beatings again.

Abir:arrey no no..who will be alive if a girl like you beat me again. Anyways.. Come I'll drop you as i need to visit my friend urgently at cafe shop.
Mishti:ohh..that's why you was coming this way..
Abir:haan..my friend is going back to America after his stay here for 1 month and iam visiting him for last time so i was coming this way to reach cafe. Ok..come soon..
Mishti sits on abir's bike and he drops her at her house and goes..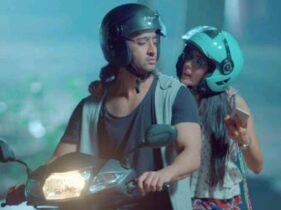 MUMBAI:
Kartik goes to dance academy to pick naira..
Kartik in mind:i hope naira is satisfied today..
Kartik enters inside and he sees naira teaching dance to students and smiles..
Kartik in mind:she is teaching so interestingly..i will wait till she completes.
He keeps watching her beautiful dance and at one point of time he loses his conscious as he gets mesmerized…
Gaadi Bula Rahi Hai, Siti Bajaa Rahi Hai
Chalna Hi Zindagi Hai, Chalti Hi Ja Rahi Hai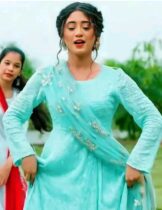 Dekho Vo Rel, Baccho Ka Khel, Sikho Sabak Jawaano
Sar Pe Hai Bojh, Sine Men Aag, Lab Par Dhuan Hai Jano
Phir Bhii Ye Gaa Rahi Hai, Nagamen Suna Rahi Hai
Kartik keeps on watching her mesmerized as if there is no other things are there beyond except naira..
Aage Tufaan, Pichhe Barsaat, Upar Gagan Pe Bijali
Soche Na Baat, Din Ho Ke Raat, Signal Hua Ke Nikali
Dekho Vo Aa Rahi Hai, Dekho Vo Jaa Rahi Hai
Ate Hain Log, Jate Hain Log, Pani K Jaise Rele
Jaane Ke Baad, Aate Hain Yaad, Guzare Hue Vo Mele
Yaaden Banaa Rahi Hai, Yaaden Mitaa Rahi Hai
Gaadi Ko Dekh, Kaisi Hai Nek, Accha Buraa Na Dekhe
Sab Hain Sawaar, Dushman Ke Yaar, Sabako Chali Ye Leke
Jinaa Sikha Rahi Hai, Marnaa Sikha Rahi Hai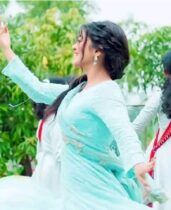 Gadi Kaa Naam, Naa Kar Badanam, Patari Pe Rakh Ke Sar Ko
Himmat Na Haar, Kar Intazar, Aa Laut Jaye Ghar Ko
Ye Raat Jaa Rahi Hai, Vo Subah Aa Rahi Hai
Kartik's eye gets more mesmerized and he smiles seeing her..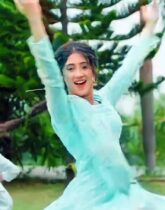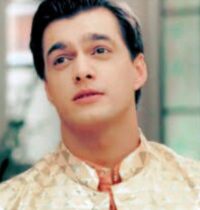 Sun Ye Paigaam, Ye Hai Sangraam, Jeevan Nahiin Hai Sapanaa
Dariyaa Ko Faand, Parvart Ko Chir, Kaam Hai Ye Usakaa Apanaa
Ninden Udaa Rahii Hai, Jago Jagaa Rahi Hai
Finally naira finsihes and she sees kartik and gets suprised..
Naira in mind: i think he came to pick me up..but why dint he call me?
Naira goes to kartik who looks at her mesmerized..
Naira:kartik..
Kartik doesn't respond as he is lost in her..
Naira:kartik..
Again kartik doesn't respond so naira jerks him making him come out..
Kartik:haan..bolo naira..
Naira:what bolo? You came here and you dint even call me up..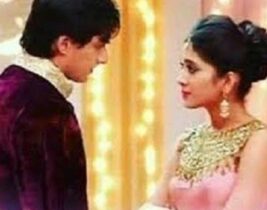 Kartik:woh..i thought not to disturb you that's why and also you was dancing beautifully so thought to watch it for sometime..
Naira smiles and..
Naira:ohh..ok.. wait for five minutes I'll be back.
Naira goes and does some finishing works and she comes and both of them goes in car to their house..
Naira:kartik..you go and change your dress in the house and i will do some special food.
Kartik:acha..
They reach their house and kartik goes to change dress while naira starts preparing something..
After a while kartik comes there to kitchen..
Kartik: do you need my help miss. Smart?
Naira:huh?
Kartik:you are smart in everything like dance.. cooking..singing and more etc..that's why i called you smart.
Naira:ohh..then who are you?
Kartik:iam mr.smart as you are mrs.smart..
They both laugh..
Finally she offs the stove and she tries to open the cooker but it doesn't..
Kartik:wait.. don't pull till your life comes out..i will open it..
Kartik pulls the cap harder and it comes out but the rice gets splitted on kartik's eye..
Kartik:ahhhh…
Naira gets worried and she holds Kartik's face..
Naira:kartik..are you ok? Please move your hand..i will check..
Kartik:no..it's paining..i can't move my hand as it is getting more pain if i move..
Naira starts to cry seeing him in pain..
Naira cries:Iam sorry kartik..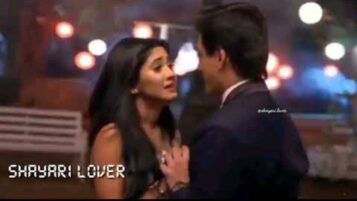 Kartik sees her crying and moves his hands away immediately..
Kartik: arrey..why are you crying now? See..iam fine..it's just irritating a little but iam ok.
Naira sees his eyes red and she immediately blows and kartik notices tears and worries in her eyes as she is close to him ….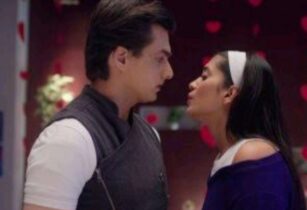 Naira: now is your irritation ok?
Kartik:haan..naira..why were crying like a baby?
Naira:how can i not cry if you got hurt?
Kartik:but why do you worry as if it's your life?
Naira:you are a mad..you always worry like this for me and same way i do. How can i not be worried for my bestie? You sacrificed your happy life for me worrying for my condition then can't i worry for a small incident too?
Naira gets angry on goes while kartik comes and holds his ears..
Kartik:iam sorry my sweetie..bestie..cutie..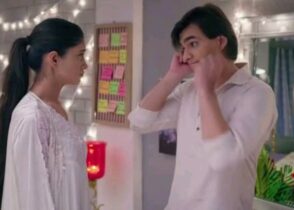 Naira:ok..but sorry will accepted only if you feed me like we do in childhood.
Kartik:haan..we will do that come.
They both sit and eat feeding each other talking and joking..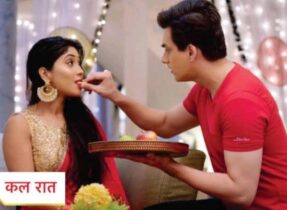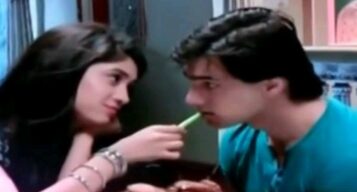 EPISODE ENDS..
PRECAP:- kartik dreams naira. Mishti ignores rohit. veer realises his love..
[ad_2]

Source link